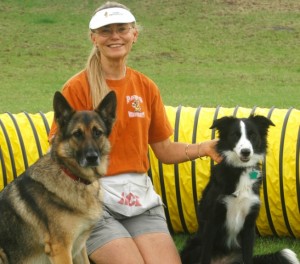 Gale Sansone represents the epitome of dog agility. The drive and relationship developed in agility, results in what Gale referred to as "the dance." This is the beauty of dog and handler running the course together – striving for perfection – but always just for the fun of it. Gale has been called the tap root of agility in Hawaii. What we do here has grown from her desire to see us here, continuing to be better handlers, better teams, and living this joyous relationship with our dogs. Let us not forget."
Gale was not just important to agility on the Big Island, but to the entire dog community, as well. Her long term home, family, and hanai families in Hawaii allowed her to make relationships that she used on behalf of dogs and their caretakers, across the island.
Her love of competition with dogs was part of that, and she was a strong leader with the Kona Coast Kennel Club. Finding places where dogs were welcome for competitions, training locations, and, for a while, the only on-leash dog park on the west side.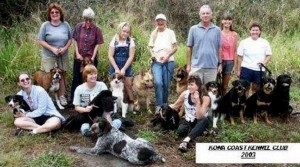 Her legal trademark, K9Mama, became part of her "persona." Coined as part of her Honest Kitchen dog food distribution, she also developed a huge list of pet lovers, and used that network whenever a pet was in need of help, or a new home. For many years, she was the best friend of abandoned animals. She also used her network to help the dog community keep up with county rules about dogs, and was always involved in helping our lawmakers understand the needs of dogs, and rally the voice of their owners.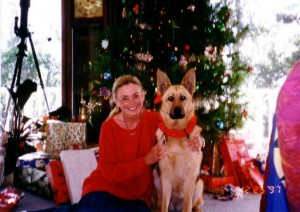 Her passion grew even more with the awakening of agility on the Big Island.
When Paws University started conducting regular classes in agility, Gale was right there. There was so much to learn! Gale, Tammy, and Allen spent much of their time learning agility, teaching classes, and hand making pvc equipment.
In 2003 came the first Big Island agility seminar with instructor Terry Simons. Gale and Tammy brought world class agility training to the island for the first time. Later, Terry was "the voice" of the AKC Agility Championships on Animal Planet. The seminar helped create tremendous enthusiasm for the sport. Gale used this to rally the medium sized but dedicated agility class members. She was able to gather together enough donations from them, and her own pocket, to provide professional equipment for training.
Gale's passion showed strongly in her regular travels to Oahu for AKC Agility competition. From 2004 through 2006 she and Andy were there on a regular basis, using the rigorous AKC rules as training she could pass on to her students. She was accompanied by what she called "Team Big Island," some of who still make the trials each year.
In 2004 when Tammy was called to other professional needs, Gale's shoulders took on the major weight of the training program. She called on her friend Cindy Field to help as an instructor, for the growing demand for classes, and the whole "school" of agility blossomed.
Gale must have been a school teacher at heart. She developed well written and documented course plans material for Paws classes, studying all the agility information she could get. One of her most important changes was the use of "purely positive" training methods, best used in agility, as opposed to the more strict competition obedience methods she had been schooled in.
In agility she didn't always manage to be "purely positive," but she and her dogs always had fun.
Gale knew the importance of a dogs' sense of play in agility training, and she taught it well. Among us she coined the term "the dance" to represent agility performance at its highest. The connection between dog and handler, the electric leash, is what holds the bond of the dancers together as they gracefully perform together. She early on taught the ways and value of distance work, attaching the partners far away from one another. Her students today still represent the best of her teaching, performing in competition at the highest levels.
Gale organized all the Paws agility classes, down to every detail, no matter how many instructors or students were in the Paws program. She became a primary driver of the creation of Big Island Agility in 2006, and a founding member of that club. Her students have all become members of the club, and will never forget her, her smile, or her beautiful unfettered laugh.